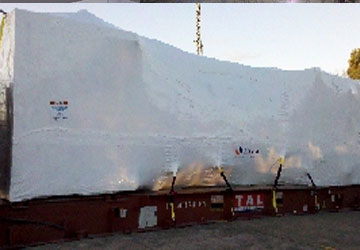 AN INTERNATIONAL PLASTICS Company – Vertical Foaming Oven and Incinerator packed for shipping.
GTD have been commissioned to build the entire heating component of a New Foaming Line installation.
The new line will consist of a Vertical Pre-Heating (VPH) Oven, Horizontal Pre-Heating (HPH) Oven, and Vertical Foaming Oven (VO) combined with a Recuperative Thermal Oxidiser and Oven Heat Recovery system.
The Vertical Foaming Oven has literally been 'cut in half' and strapped to a 40 foot 'flat-bed' container. The Recuperative Thermal Oxidiser Incineration system has had the burner modified to suit the fuel requirement in Thailand, and has also been strapped to the same container.
This container, the first of three, is expected to reach its destination 7-8-11.
GTD have completed the design of the VPH with construction of the HPH nearing completion