INDUSTRIAL FOOD DEHYDRATORS
الخيارات الثنائية الغوريلا GTD boasts extensive experience in the design and construction of customer and product-specific Food Dehydrators. We have modelling programs enabling us to design for any application.
ثنائي مؤشر خيارات الإشارات
arab forex GTD also provides a range of universal Standard Food Dehydrators.
الخيارات الثنائية free.com
الخيارات الثنائية الخرائط مجانا Typical Food Dehydrator applications include:
source
الخيارات الثنائية مجرد لعب القمار
Fruits
Vegetables
Meats
Fish
http://www.dramauk.co.uk/?arapyza=%D8%A7%D9%84%D8%AA%D8%AF%D8%A7%D9%88%D9%84-%D9%85%D8%B9-%D8%B4%D8%B1%D9%83%D8%A9-%D9%81%D9%88%D8%B1-%D8%A7%D9%83%D8%B3&00a=68
http://www.ac-brno.org/?pycka=%D8%AA%D8%AC%D8%A7%D8%B1%D8%A9-%D8%A7%D9%84%D8%B9%D9%85%D9%84%D8%A7%D8%AA-%D8%A7%D9%85-%D8%AA%D8%AC%D8%A7%D8%B1%D8%A9-%D8%A7%D9%84%D8%B0%D9%87%D8%A8&c4d=b4 GTD Food Dehydrators are custom made to meet or exceed food grade standards. All Dehydrators feature an extremely high quality of workmanship, Stainless Steel construction, quality electrical components, and incorporate silicon door seals and gaskets.
http://asect.org.uk/?ilyminaciya=%D8%A7%D9%84%D8%AE%D9%8A%D8%A7%D8%B1%D8%A7%D8%AA-%D8%A7%D9%84%D8%AB%D9%86%D8%A7%D8%A6%D9%8A%D8%A9-%D9%85%D8%B1%D8%A7%D8%AC%D8%B9%D8%A9-%D8%A7%D9%84%D8%A8%D8%B1%D9%85%D8%AC%D9%8A%D8%A7%D8%AA&50b=ba
go Food Dehydrators typically operate at temperatures less than 100°C, or 212°F. Their role is to decrease the water content of the product to a level specified by the customer, or application. The key to a well designed Food Dehydrator lies more within the design of the air recirculation system, rather than the process temperature. Please note that a Food Dehydrator that claims to operate above 100°C is simply drying the product, and NOT dehydrating it.
ITM إشارات الخيارات الثنائية
http://dinoprojektet.se/?kapitanse=ni-som-jobbar-hemifr%C3%A5n&e33=f2 The graph below shows the typical water content for Fruit & Vegetables (95-80%) and Meat (75-70%). Theoretically, one should not attempt to dehydrate a product below the 'point of Critical Moisture Content', see graph below. The critical moisture content is typically around 15% and once this point is exceeded, the product will automatically absorb water once it is removed from the Food Dehydrator, or 'Naturally Regain'.
see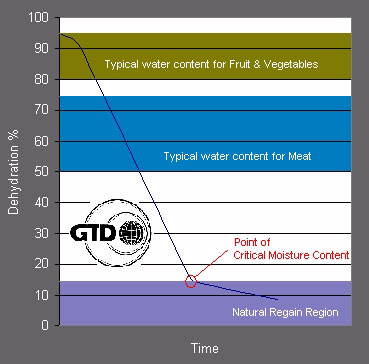 http://wilsonrelocation.com/?q=%D8%AA%D8%AD%D9%85%D9%8A%D9%84-%D8%A8%D8%B1%D9%86%D8%A7%D9%85%D8%AC-%D8%A7%D9%84%D9%81%D9%88%D8%B1%D9%83%D8%B3