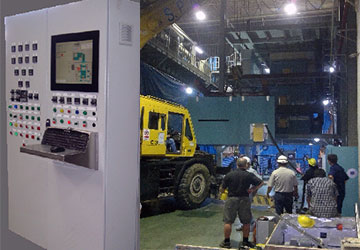 AN INTERNATIONAL PLASTICS Company– Control System ready for shipping.
GTD have been commissioned to build the entire heating component of a New Foaming Line installation.
The control system has been completed and packed for shipment.
The system allows for full HMI control of all GTD equipment, featuring automatic PID control of temperature and airflow, which can be set and monitored in real time.
User levels define different levels of functionality. This allows the plant engineer full control over the system, whilst the Operator is limited in the amount of control – this minimizes production errors and downtime.
The HMI network uses Citect SCADA/HMI software displaying on a 22" LCD panel mount monitor, communicating with MODBUS devices.
The control system also features independent Manual control enabling the system to be operated in its entirety via the Control Cabinet – this drastically minimizes the chance of any downtime.
This is the last of three containers t obe shiped.
GTD is sheduled to install and commission the equipment in late September.